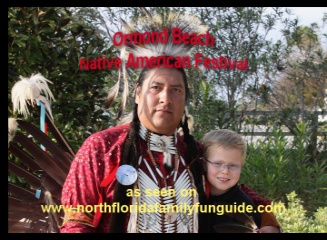 Ormond Beach Native American Festival - Ormond Beach, Florida
Ormond Beach Native American Festival
The Casements
25 Riverside Drive,
Ormond Beach, Florida 32176
Phone: 386-676-3216
This Annual Event is located at the Casements in Ormond Beach, and occurs in January of every year.
The Ormond Beach Native American Festival showcases over 50 Native American Cultures. There is plenty of dancing, singing, drums, and some amazing Native American dress.
We enjoyed a youth group's demonstration of several types of Native American Dances, it was so colorful, and lively. Each type of dance means something different, and it was interesting to see all the variety. The clothing was fascinating, and colorful.
There was a raptor demonstration,which was very interesting, teaching us how the Native Americans used falcons to hunt, and capture prey.
There was a Wildlife Encounter, where they had live alligators, and Gopher Tortoises, and there were demonstrations on how they hunt alligators here in Florida.
Rows and rows of booths filled with interesting artifacts, and useful things to wear, or collect. Beautiful handmade jewelry, leather apparel, moccasins, knives, dreamcatchers, and much much more!
In the children's area there was a fun bouncy game, where the child is strapped to a harness and jumps on the inflatable base, and can do flips and spins. Bryan loved this!
This is a wonderful place to spend the entire day, and take it all in! There were ongoing demonstrations, and talks, booths filled with historical hand made tools and implements made by the Native American peoples.
We loved this learning festival, and hope to be back next year!
Come see our tour!


From Ormond Beach Native American Festival back to Home at www.northfloridafamilyfunguide.com



You may also like: Barberville Center For Creative Studies